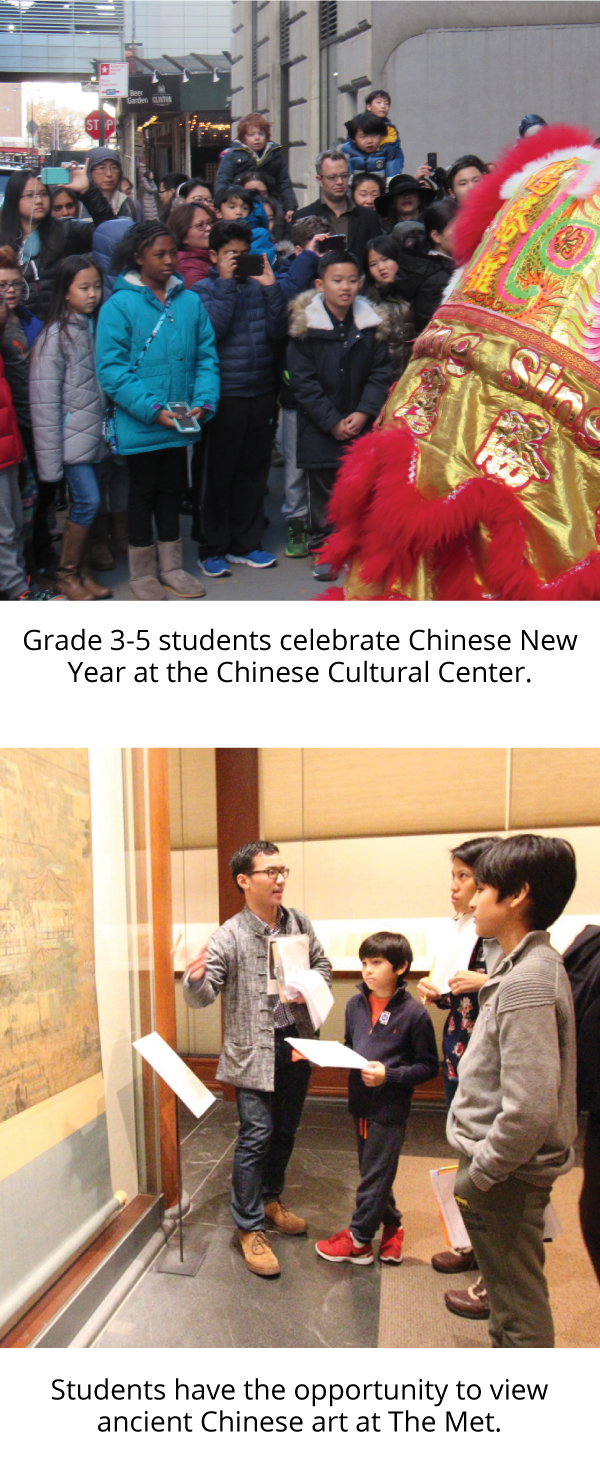 The curriculum is proficiency- and standards-based. It integrates language, content, and culture in teaching and learning. One-on-one online instruction plays a critical role in differentiating instruction and ensuring articulation after students move to higher grades. The goal of Flagship K-12 initiatives is to graduate high school students with advanced-low language proficiency to prepare them to enter the college Flagship programs. All the students in the pilot program had no previous background in learning Chinese. The K-12 curriculum was designed to allow students to build proficiency gradually through interaction and practice via authentic tasks with native speaker teachers. As Chinese is not an alphabet-based language, in order to be considered literate, a Chinese speaker needs to have a good knowledge of 3,000 commonly used characters and the vocabulary and sentence structures of formal written Chinese. Another challenge our curriculum incorporates is that Chinese is a tonal language.

The K-12 curriculum is designed to help students achieve fluency and accuracy while building a solid foundation in literacy and pronunciation. The curriculum also emphasizes understanding the target culture and society. Age-appropriate authentic materials such as poems, songs, stories, cartoons, essays, films, and newspapers are introduced gradually to students. The curriculum also provides ample authentic communication experiences through projects such as "e-pen pals" where students use Chinese to communicate with tutors or students in Taiwan or China. Cultural excursions and field trips are designed to bring students to Chinese communities and experience Chinese culture in art exhibitions and music performances. The curriculum focuses on smooth articulation from elementary to secondary levels and prepares students for college Chinese courses. The goal for high school students is to complete college elementary and intermediate Chinese while still in high school so that they will successfully transition to advanced level courses in college. Formative assessment is conducted frequently throughout the year to diagnose students' learning needs. Summative and proficiency assessments are conducted at the end of each year to gauge whether students have met the proficiency benchmarks. The assessment results are used to guide future instructional design. Because instruction is delivered in both face-to-face and online modes in the blended learning model, instructional activities and learning materials are designed for both online and face-to-face language education to maximize learning outcomes.

K-12 Proficiency Targets in Each Modality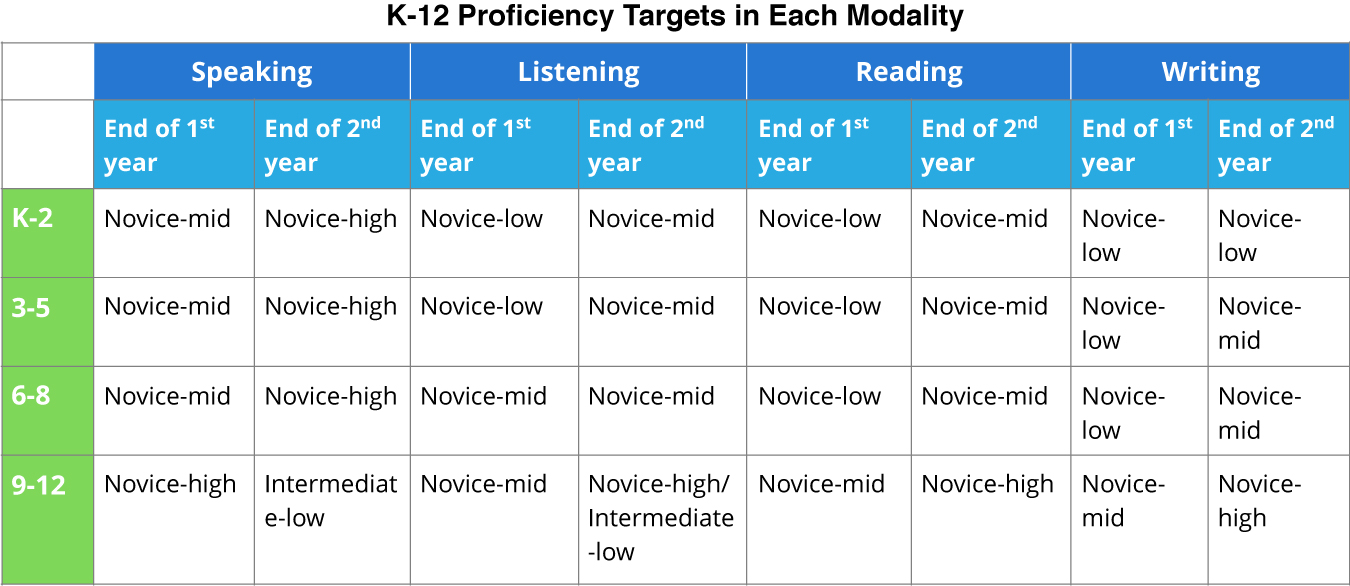 Pronunciation Foundations
Students will acquire tones, initials, and finals, and learn to distinguish tones and sounds. They will be introduced to the concepts of tones, aspiration, rhythms and tone change rules. Students will learn to say two syllable and three-syllable words, learn about intonations, and learn pinyin spellings of words as well as how to indicate tones in pinyin.

Literacy Foundation
Students will acquire basic strokes, character components, stroke orders, radicals, and pictographic characters. They will memorize 20 common radicals and their variant forms, meaning, and stroke orders. They will learn to write Chinese names, and learn radical characters related to nature, body parts, colors, weapons, tools, actions, household objects, and common adjectives. They will also begin to learn how to type Chinese using the pinyin input method.

Understanding of Chinese Culture and Society
Students will acquire cultural knowledge of Chinese festivals, food, housing, kinship terms, history, and geography.

Blended Learning Curriculum With Thematic Content, Can-do Statements and Activities
-Files will be added at a later date. Please check back.

E-Pal Project: Making Friends with Chinese People
During the extension period, the program launched an E-Pal project with a secondary school in Taiwan: Liou Jia High School.

About 60 students from the Liou Jia High School and the pilot program participated in the E-Pal project. In order to accommodate the time difference between New York and Taiwan, students were directed to write their letters on a Google form. Students were asked to write in both Chinese and English, and focus on a few specific topics. After a few letter exchanges, students were asked to create a video clip to present to their e-pals. Jericho School students gained an authentic communication experience with peers from their age group from the other side of the globe.