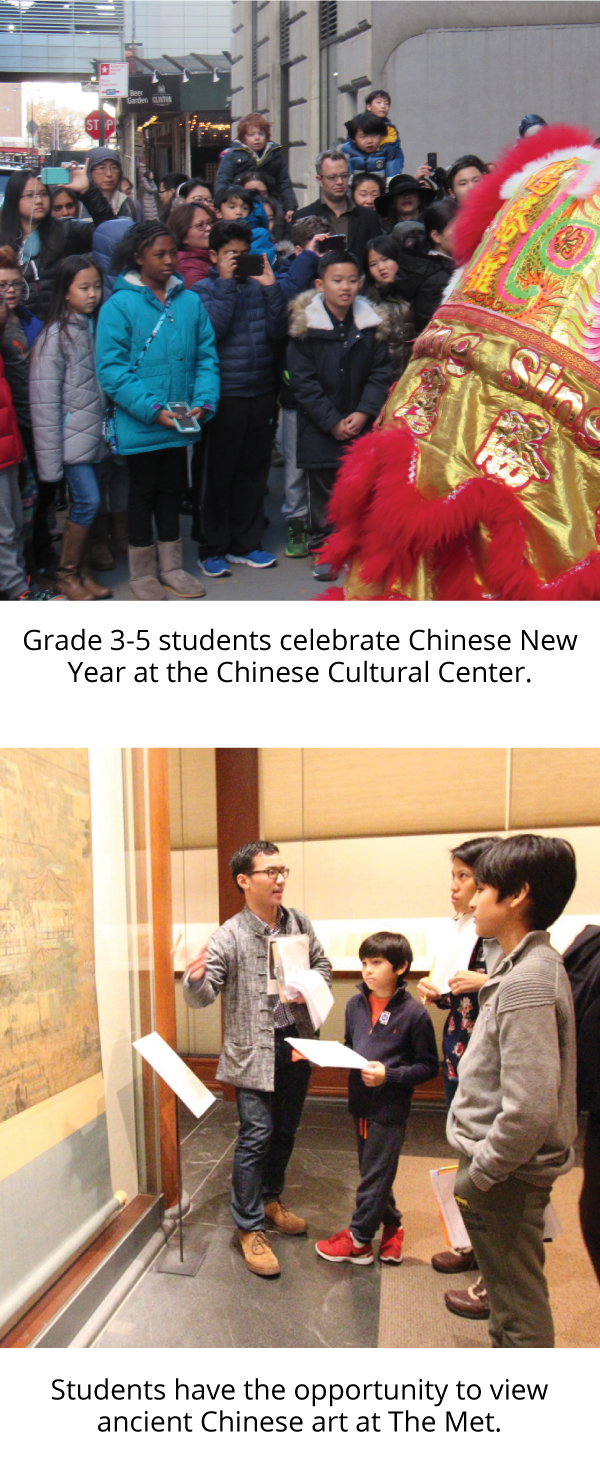 In-house Formative Assessments
The following assessment strategies were used to test grades 3-12 students' achievement in meeting targets in pronunciation, in literacy foundation, and in understanding Chinese culture:
Pronunciation foundation: Students speak and read aloud to show correct pronunciation.
Literacy foundation: Students identify characters and read words and sentences written in characters.
Typing in Chinese: Students type a short passage in Chinese.
Handwriting characters: Students handwrite characters from memory.
Understanding Chinese culture: Students demonstrate their knowledge of Chinese culture (such as festivals, manners, life habits) in various ways.
For Grades K-2, assessments focused on whether students could perform the language tasks using the target language by interacting with kids of the same age or an adult with whom they were familiar. At the end of the year, students performed tasks featuring three modes of communication (interpretive, interpersonal, presentational) on a checklist prepared by the teacher based on the learning targets established at the beginning of the year.
Sample K-2 Formative Assessment, Face-to-face
Sample K-2 Formative Assessment, Online

Summative/Proficiency Assessment Tools
Students' linguistic skills are assessed through STAMP tests (for Grades 3-12). The Standards-based Measurement of Proficiency (STAMP) assessment is an adaptive language proficiency test. The STAMP assessment uses real-world language content in order to assess a student's reading, writing, listening, and speaking proficiencies. The Flagship K-12 Blended Learning Pilot Program uses student STAMP scores to improve their Mandarin Chinese learning outcomes.

The Difference Between STAMP 4S and STAMP 4Se
There are two kinds of STAMP assessments offered: the STAMP 4S assessment and the STAMP 4Se assessment. The STAMP 4S assessment is geared for students in Grades 7 and beyond. STAMP 4S assesses a student's language proficiency all the way to the top of the Advanced level. The STAMP 4Se, however, is offered to students in Grades 2-6. The STAMP 4Se assesses a student's language proficiency to the top of the Intermediate level. In the Flagship K-12 Blended Learning Pilot Program, students in Grades 3-8 take the STAMP 4Se assessment whereas students in the Grades 9-12 take the STAMP 4S assessment.
STAMP 4S Sample Test Link
STAMP 4Se Sample Test Link